Create your NCM account
Your can sign-up as either an Advertiser or an Agency.
If you are a Direct Advertiser, you will create campaign on your own behalf, boosting your own business.

As an Agency, you are able to create campaigns on your client's behalf.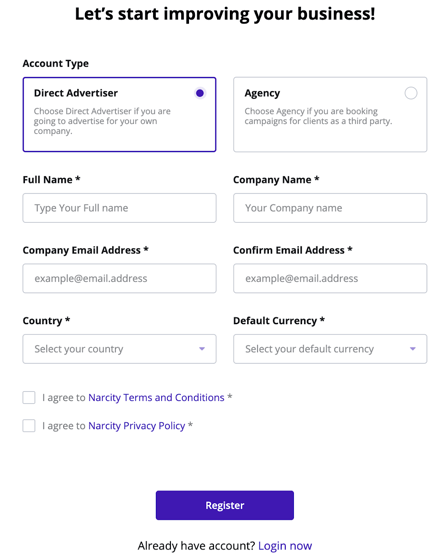 1) On the Landing Page, click Create Account.
2) Select the account type that fits your business: Direct Advertiser or Agency.
3) Enter required information:
- Full name
- Company email address
- Company name
- Country
- Default currency
4) Read and accept the Terms and Conditions, Cookie Policy and Privacy Policy.
5) Click Register.
6) After signing up, you will receive a confirmation email with a link to set your password.
The Set password link in the email expires after 24 hours.
7) Click Set password in the email.
You will be forwarded to a form asking you to create your password.
8) Enter the same password in both boxes and click Set password.
The password should include a minimum of 8 characters.
9) After clicking Submit, a reCAPTCHA validation is done to make sure you are not a robot.
If validation is required, a popup window will open on top of the Sign up page. Follow the instructions to validate.
❌ If validation fails you will not be able to login to the Platform. Please try again.
✅ After successful login, you will be directed to the NCM Dashboard.