Get your campaigns up and running
CREATE CAMPAIGN
You create campaigns in the Campaign Wizard.
Between each step the Platform will check if the impressions you are looking for are available.
Campaigns are stored automatically at the Budget and Targeting steps in the wizard. New campaigns are stored as DRAFT.
1) Select Create Campaign and the Campaign Wizard will start.
2) Select the campaign type.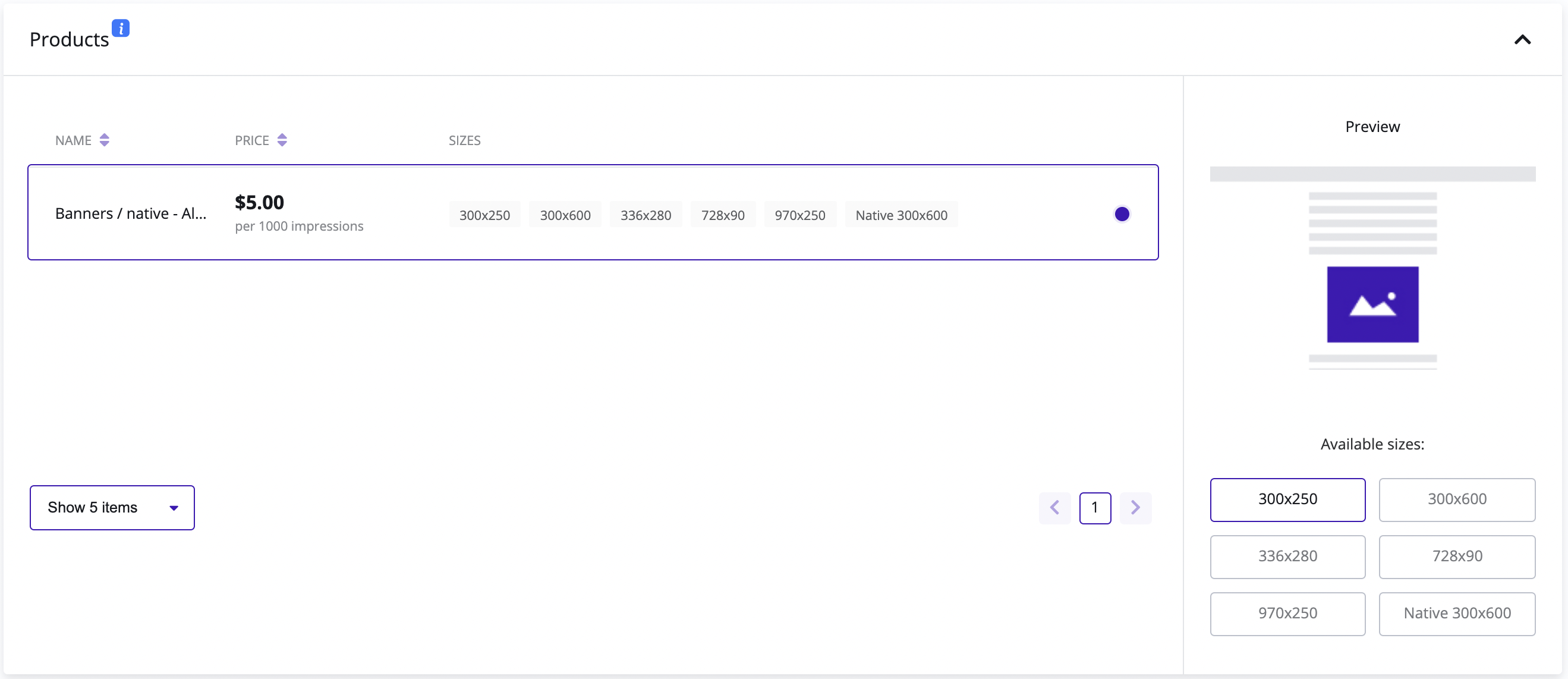 3) You can preview available sizes by clicking on a size in the side panel.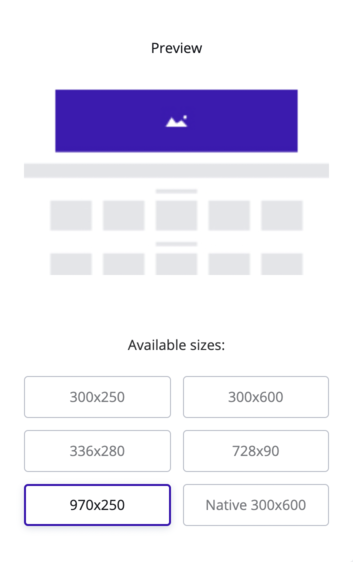 4) Select your budget model and campaign dates.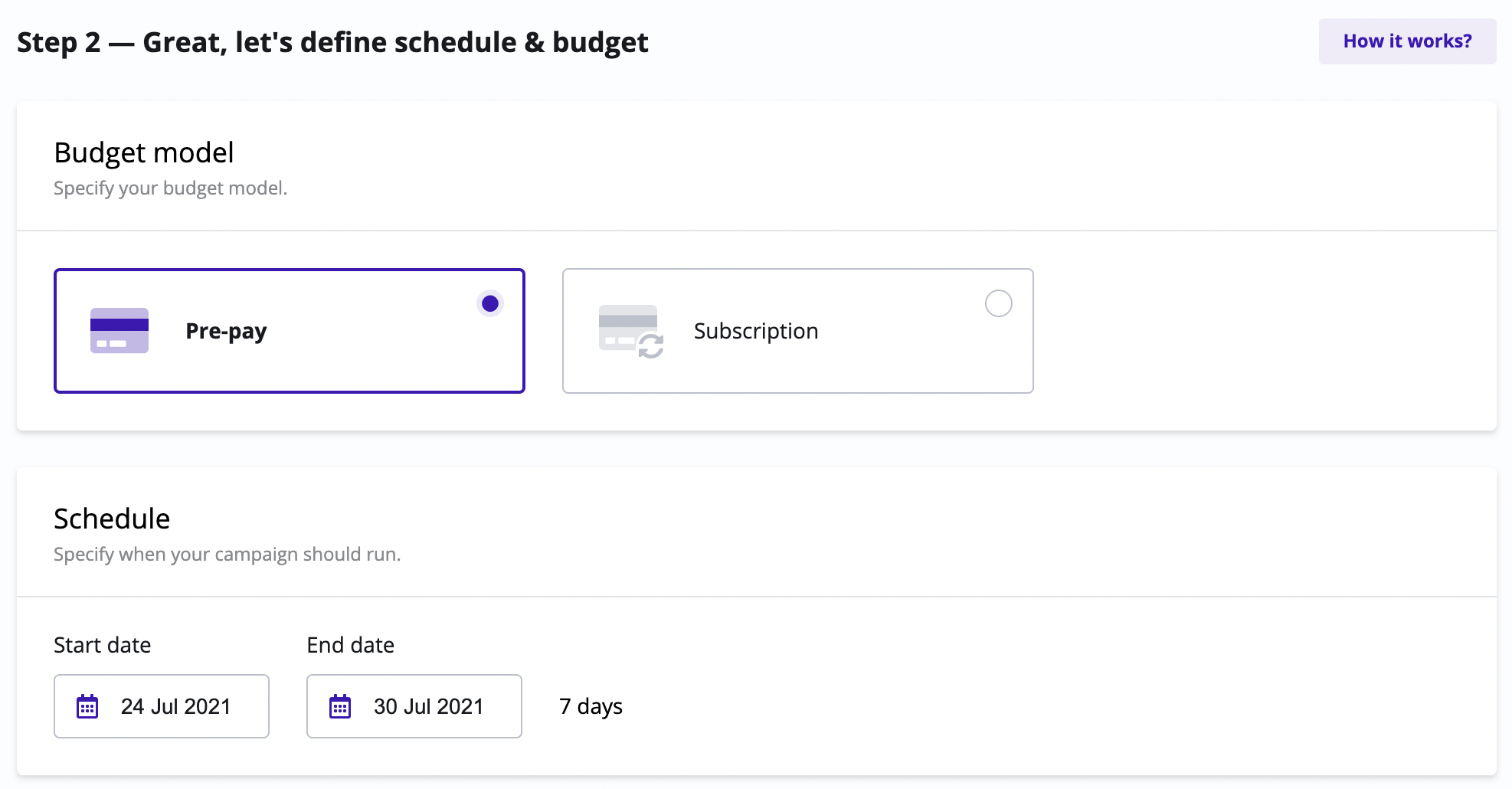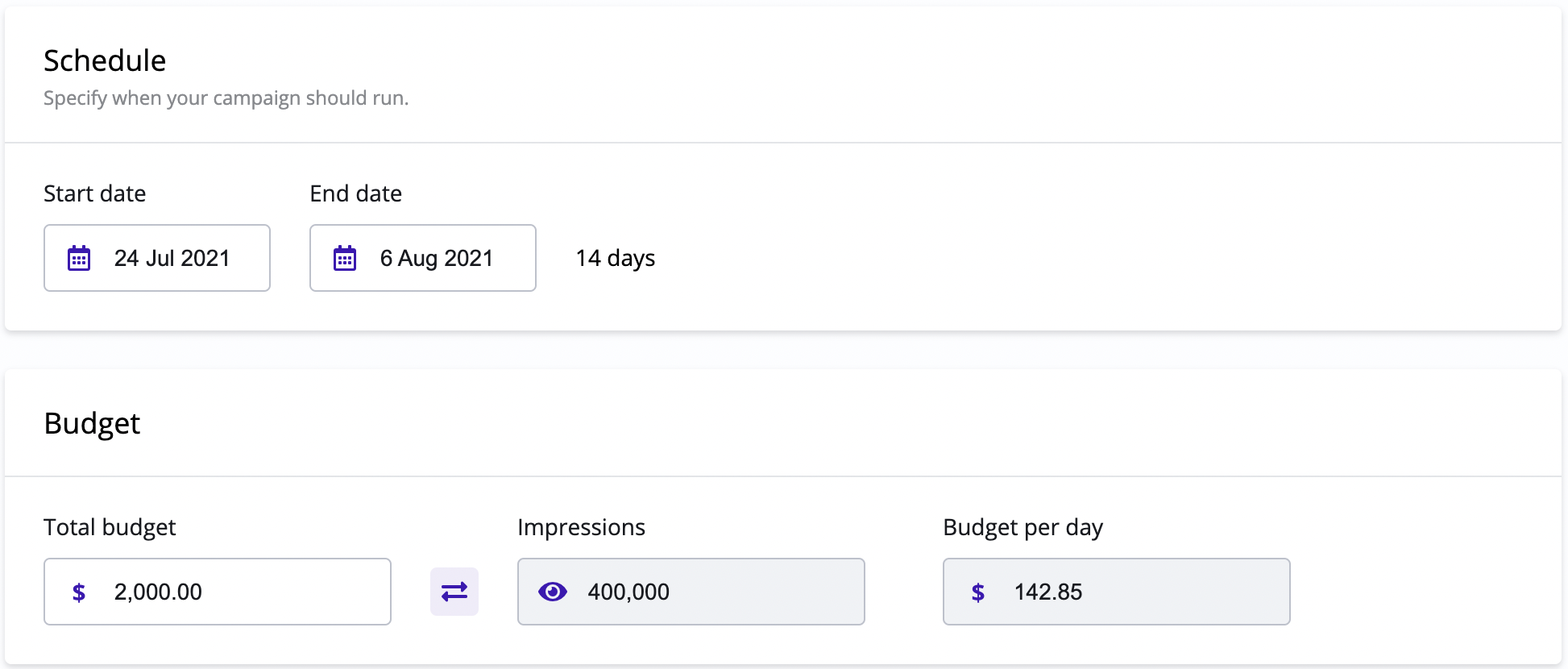 You can switch between setting budget in money or impressions.

5) Select Geographic location, if you want your ad to only be shown to audiences viewing your ad from specific locations. You can also set Schedule and Content Language targeting.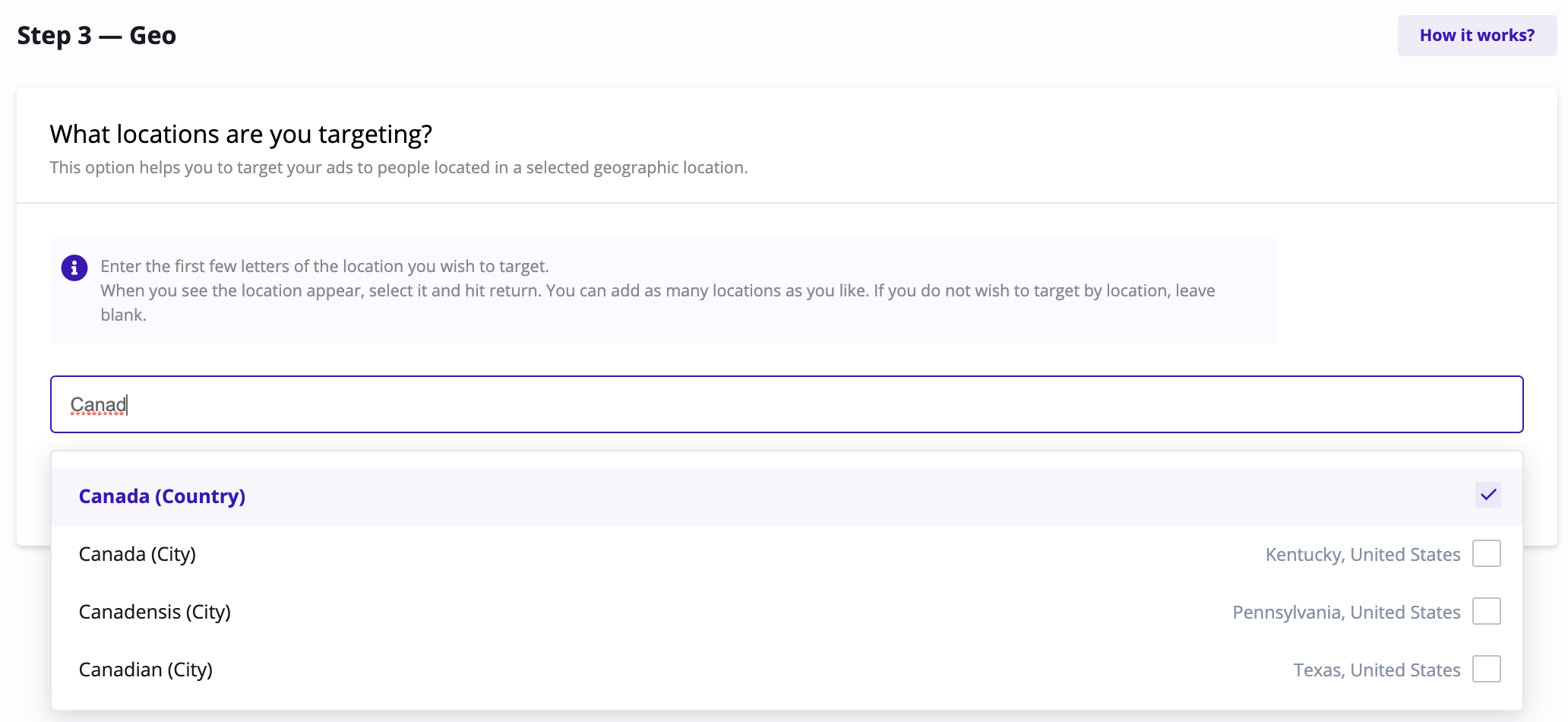 6) You can add Time scheduling to ensure your ad is shown only on specific days of the week, and specific times during the day.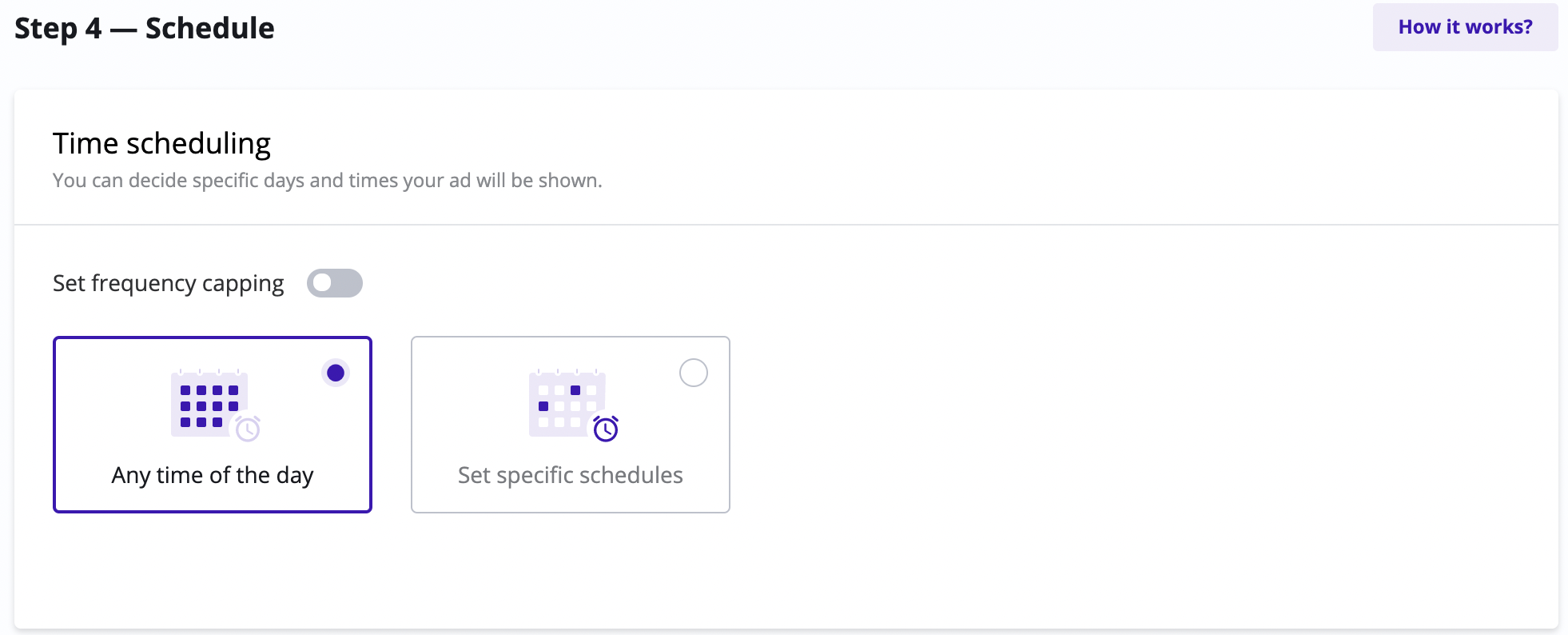 7) You can set a frequency cap. Read more about our recommended frequency capping.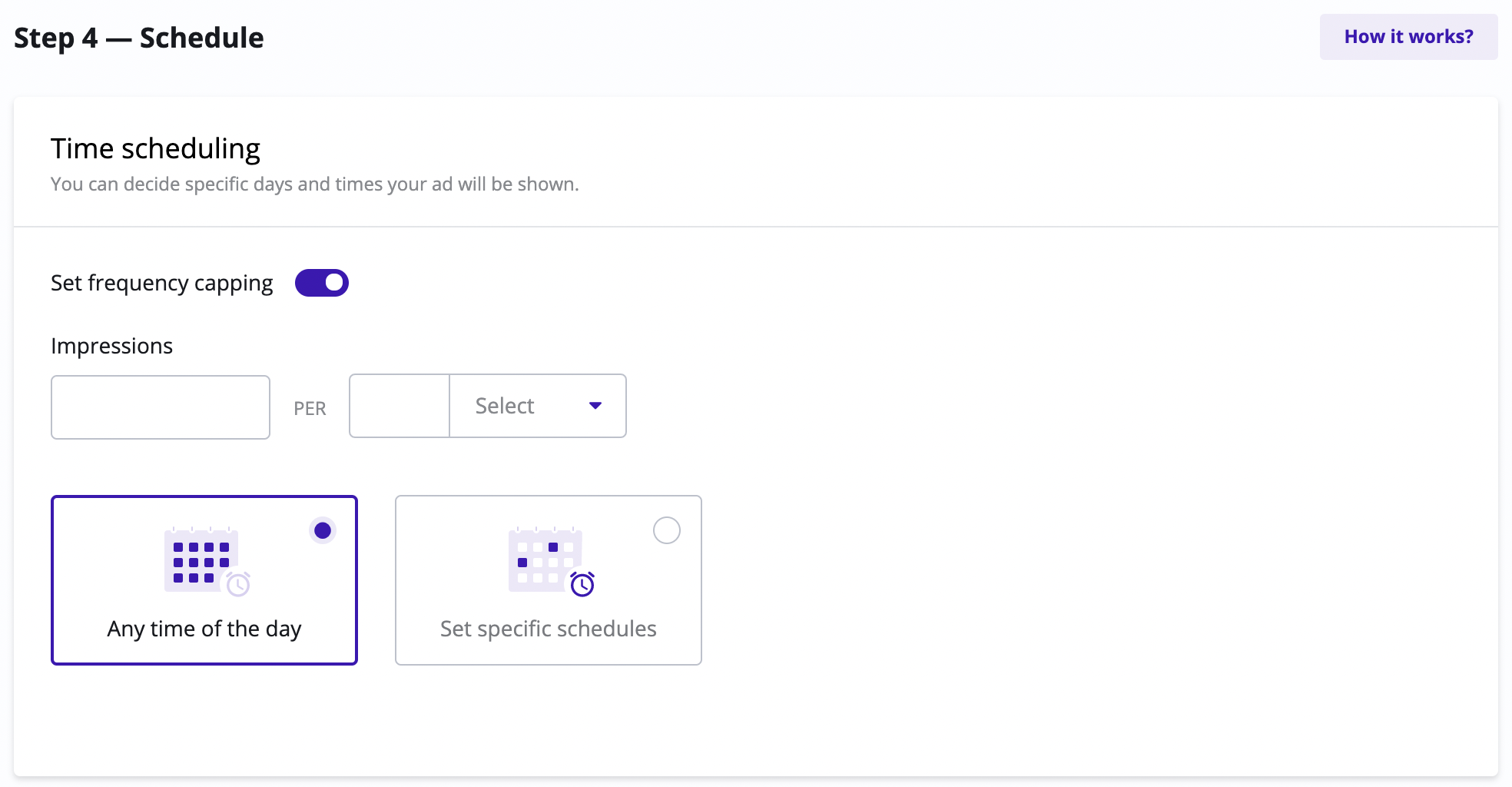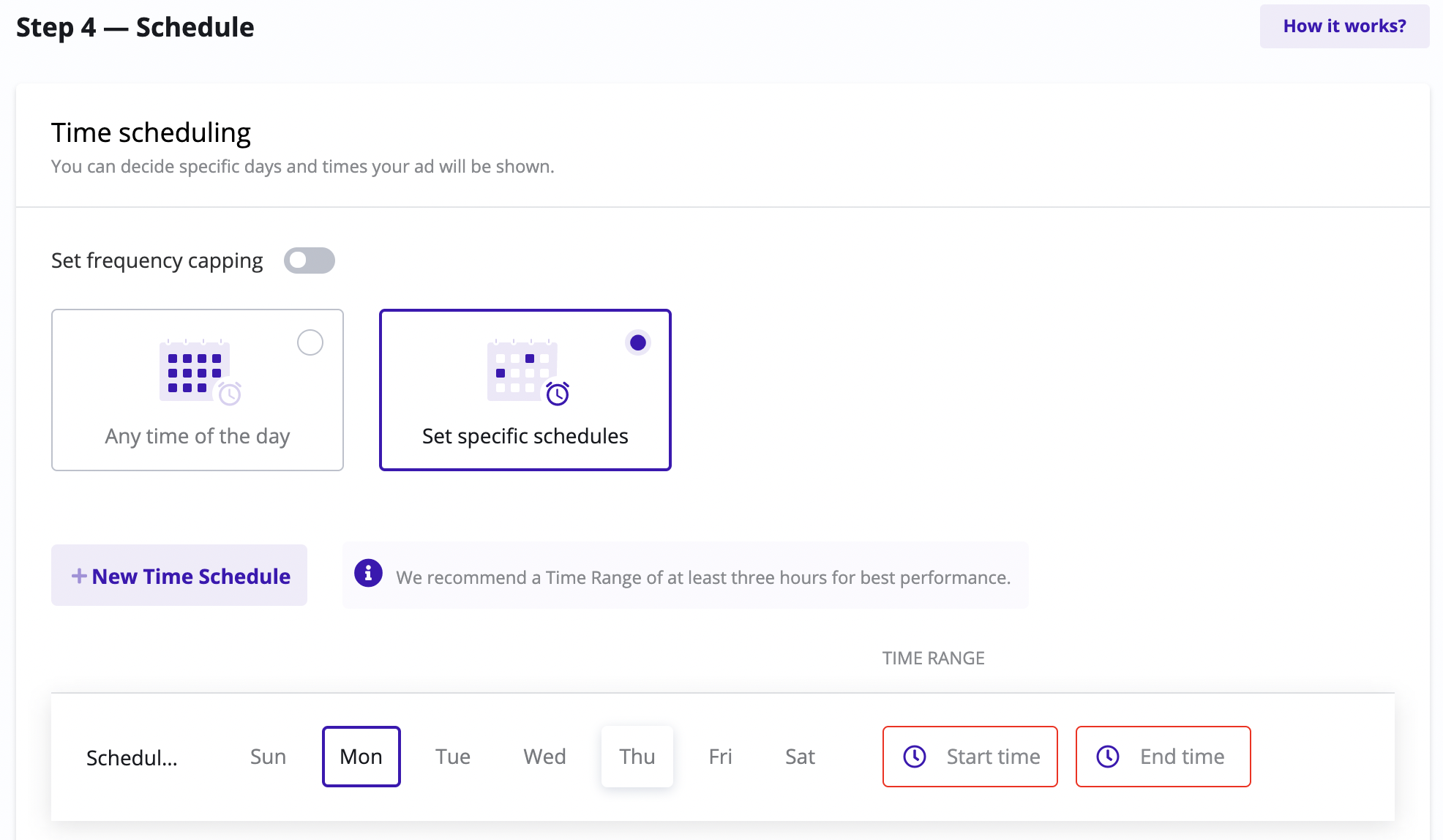 8) You can now + Add New Creative or skip this step and Add Creative later.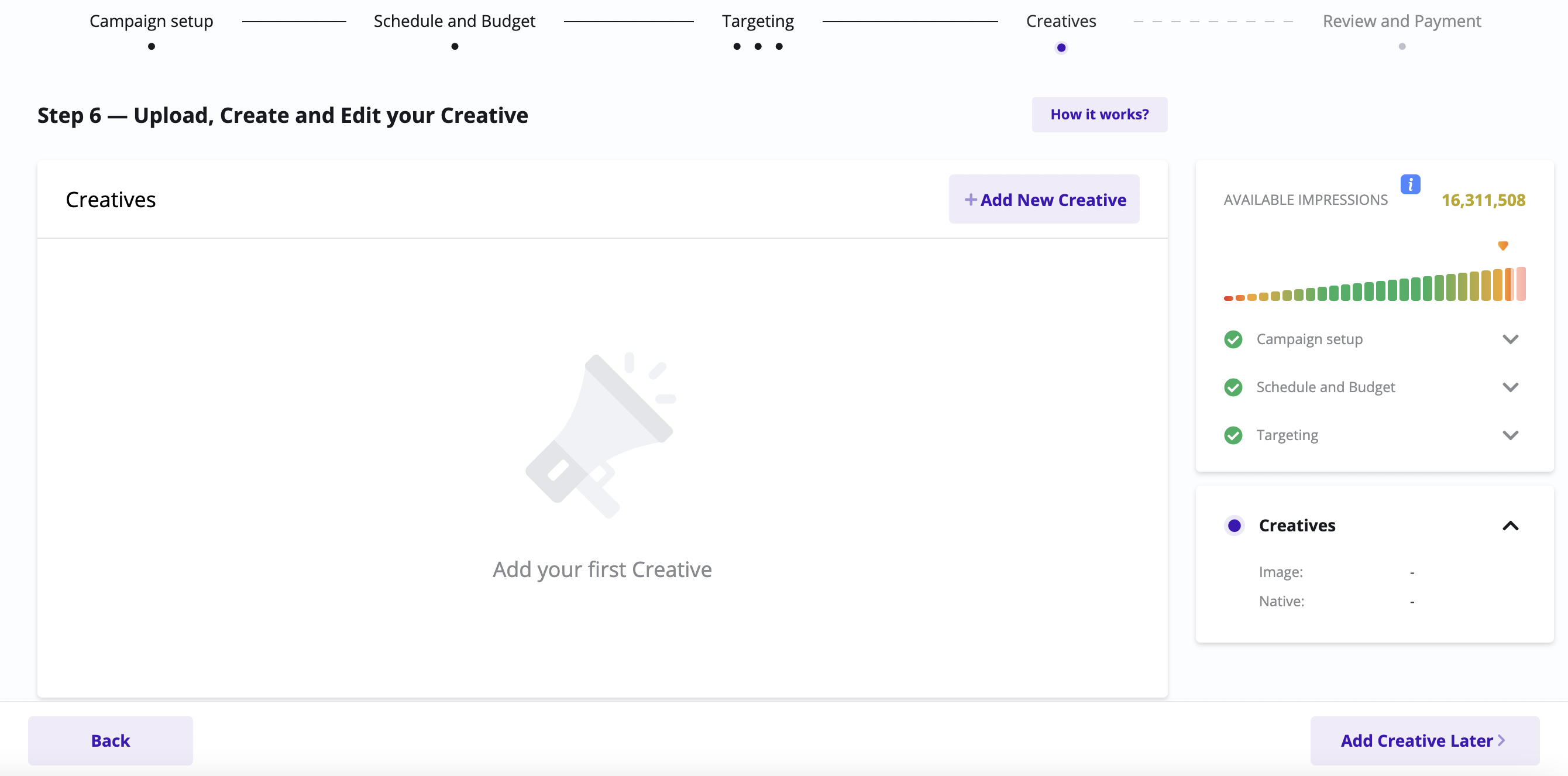 9) Review your campaign.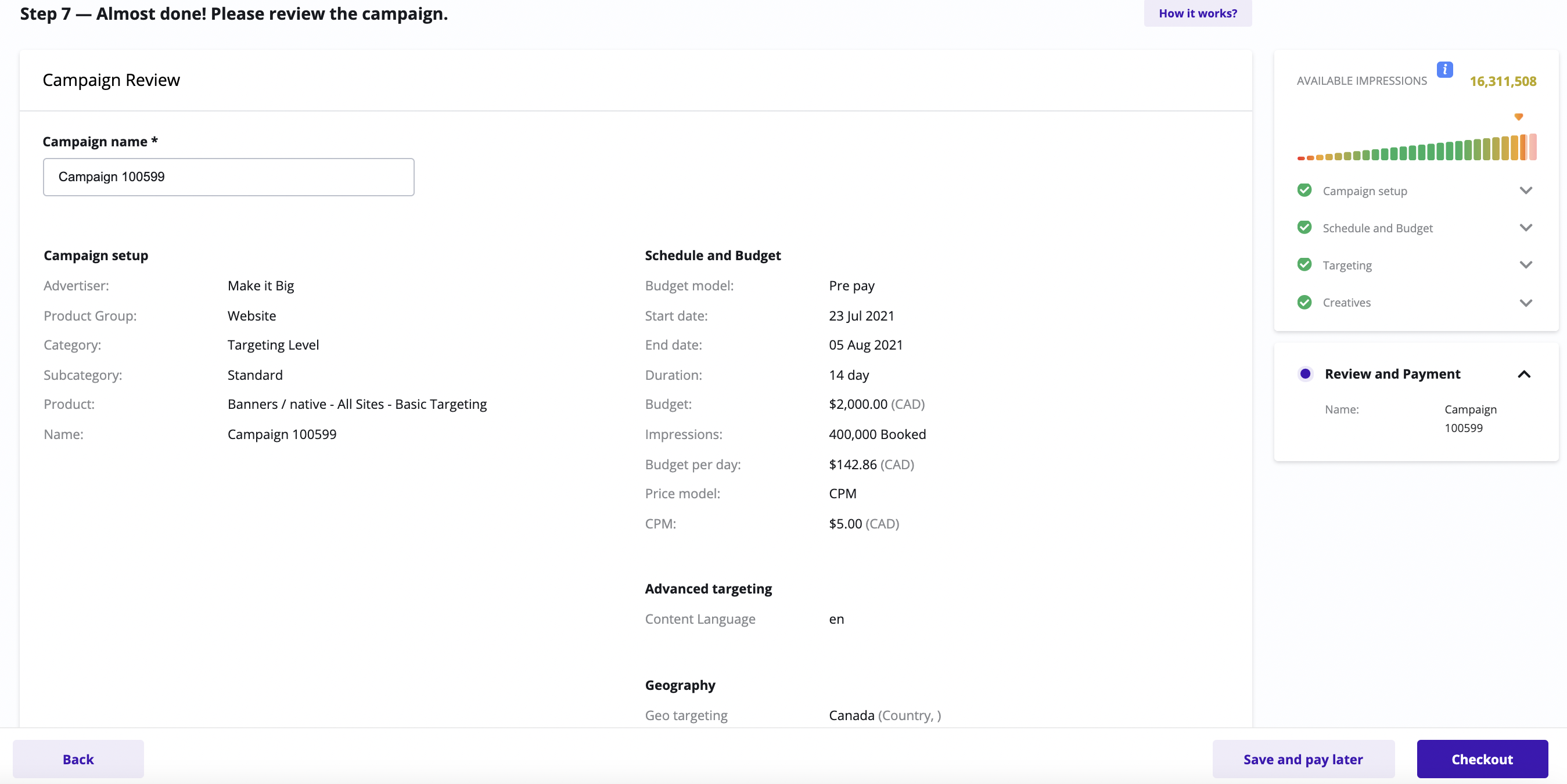 11) When you are done you can either Save and pay later or Checkout.
IMPRESSIONS AND AVAILABILITY
The platform is checking availability continuously. You will be notified if there is limited availability.
FREQUENCY CAP
You can limit the number of times a visitor will see your ad within a set time span. For example, by setting 10 impressions per day, your ad will be shown up to 10 times per day to a visitor that aligns with your selected targeting options. We recommend between 3-5 impressions per week.
PAYMENT - ONE CAMPAIGN
As last step in the Campaign Wizard, you can checkout and pay for the campaign.
You can either pay for a new campaign directly via Checkout or Save and pay later. When you Edit a previously saved campaign, it will reopen in the wizard. If you have not confirmed the campaign yet, you always have the option to Checkout and Pay.
1) Create Campaign or Edit an existing campaign.
2) You can navigate Back and Next as you like.
3) When you are satisfied with all steps, as a last precaution review the campaign.
4) Select Checkout.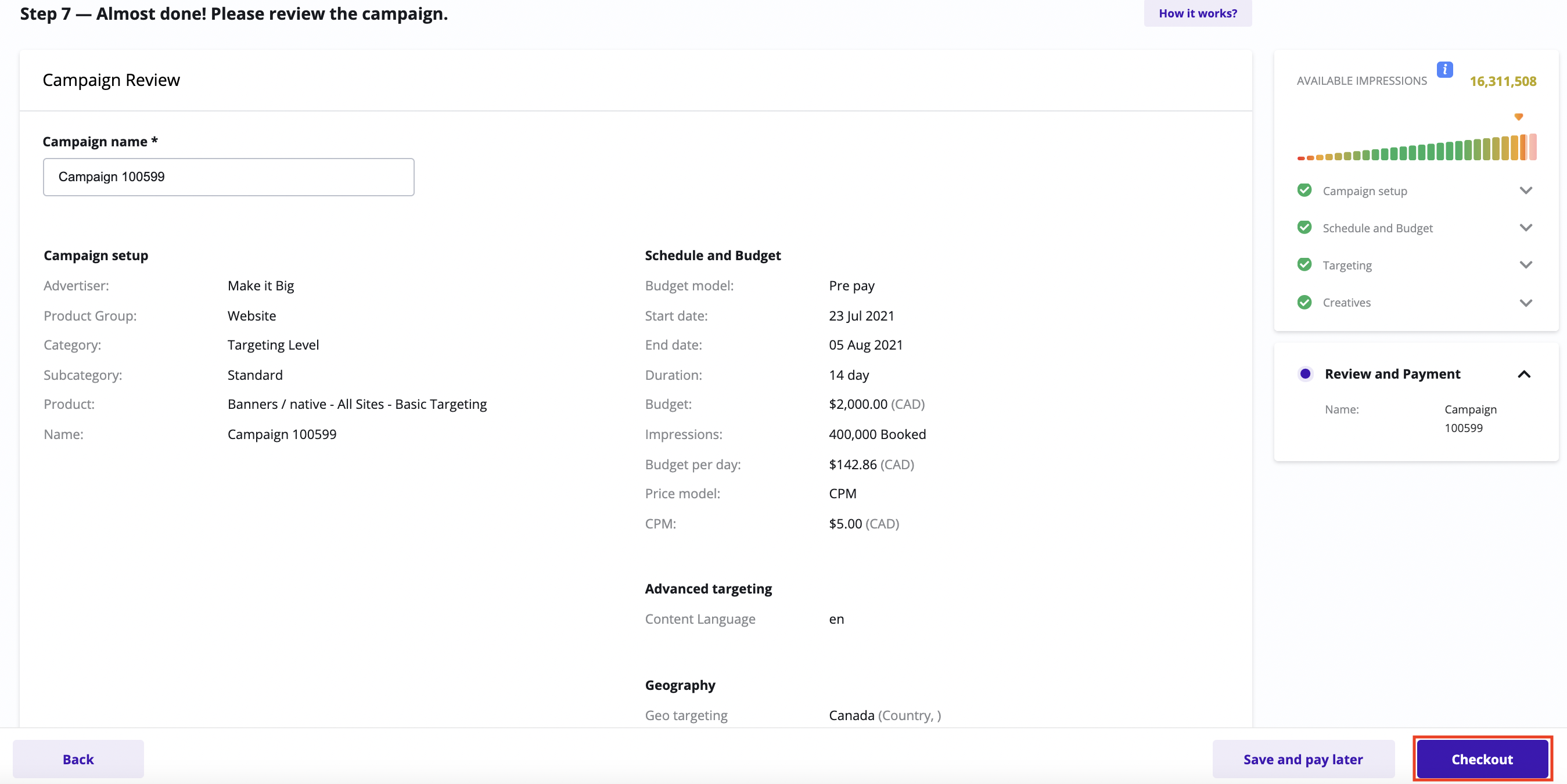 5) You can pay with either a Credit Card, a Debit Card or by Invoice.
Card payments are enabled by default. If you wish to pay by invoice, please contact the NCM chat.

PAYMENT - MULTIPLE CAMPAIGNS
As an alternative to paying for one campaign at the time, you can pay for multiple campaigns at the same time.
The campaigns you pick will be included in one Order.
1) From the Dashboard in the Campaigns list, unconfirmed campaigns will show the Pay button.

2) Select Pay
3) You will see a list of all campaigns that are not yet confirmed or require a payment. Select which campaigns you wish to Confirm.
4) Click Confirm.

5) Your campaigns are now checked for availability. If there is not enough availability, you will be notified and can correct and change the campaigns. 6) Review the new order and select if you want to pay either a Credit Card, a Debit Card or by Invoice.
7) Depending on where you are located and whether you have a valid Tax ID, you might be charged VAT.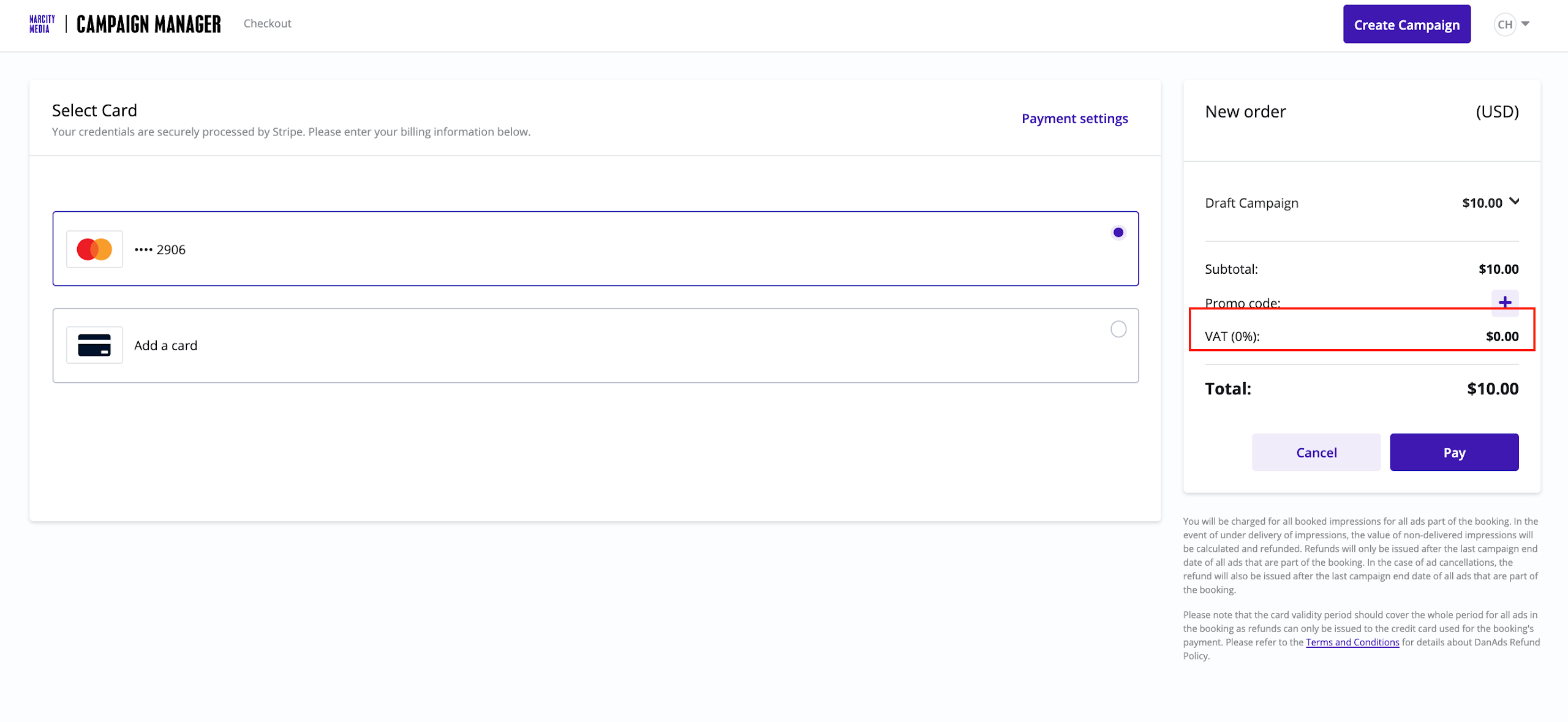 8) When you have checked the order, click Pay.
9) Your card will be charged and a summary of your order is shown.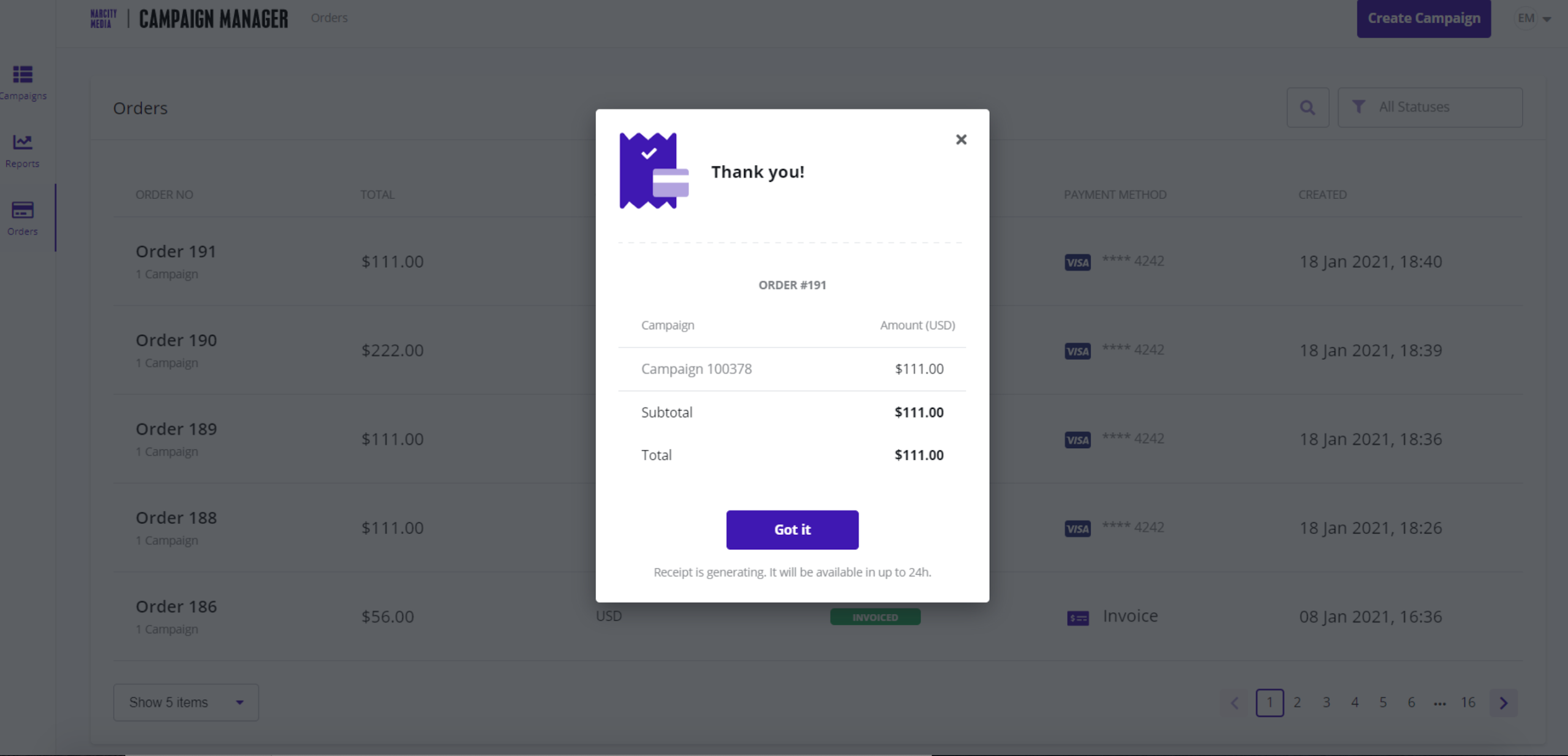 PROMO CODES
If you have a promo code you can use it on the Checkout page.
1) Click the Plus icon.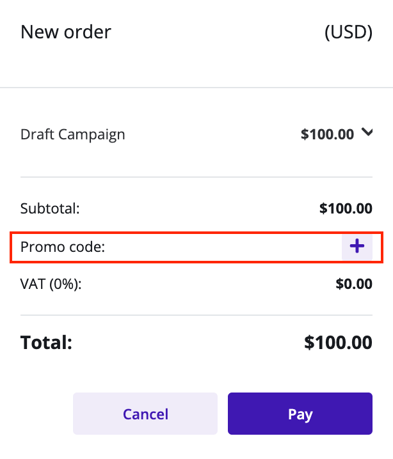 2) Enter the promo code and select Apply.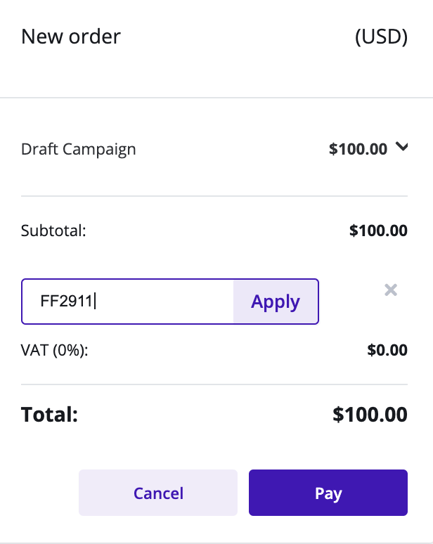 3) If the code is valid the discount is applied.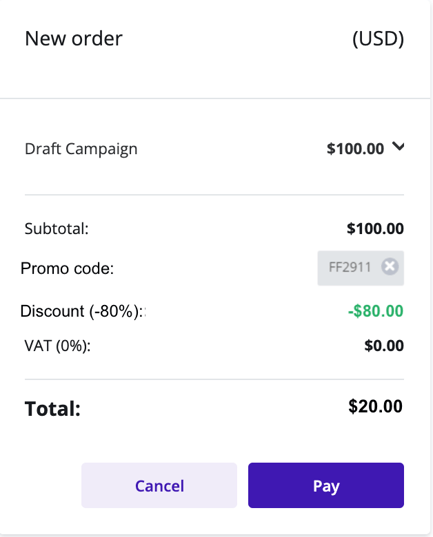 A promo code can be invalid for a number of reasons:
The expiration date has passed.

The code has been used too many times.

Your order does not meet the minimum amount required.

The publisher has revoked the promo code.
If a promo code is invalid, you will be notified at checkout.
Read more about applying a promo code here.
PAUSE/ RESTART A CAMPAIGN
You can pause a campaign and you can pause creatives. Pausing a campaign means all creatives under that campaign will be paused.
PRICING
The cost of your ad(s) depends on where your ad is shown and the targeting options selected by you.
Based on the budget you enter and the ad product you select, NCM will calculate how many impressions your ad will receive.